Russo's Ristorante & Bar
Russo's is a local favorite located on Naples Island. With the help of feedback from our loyal customers of nearly 30 years, we created a menu made up of our customers' all time favorites mixed with some great new dishes and it's getting rave reviews! Whether dining alfresco on the patio or in our warm and cozy dining areas, you are sure to enjoy the authentic flavors of Italy found in our dishes. Full bar and friendly service.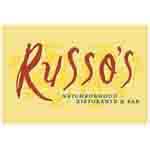 Kihon Sushi & Japanese Tapas
Casual style dining with something for everyone. Contemporary Japanese cuisine as well as your favorite classics. Japanese tapas featuring hot and cold plates. Great wine, beer and sake selection. We believe in the importance of adhering to the fundamentals (kihon) of the art of Japanese cooking and we apply this on every dish we create.  Come and see the difference for yourself! Arigato gozaimasu!